Banbury Cross Farm
Carolina Dogs / American Dingos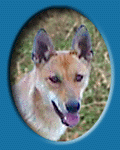 "You're one of the very few who have actually preserved the breed and cared about them remaining true. We need more of that, and need to support those who do it right." -Raluca
A passionate Gaza City resident founded a no-kill shelter which can house up to 350 dogs is also helping save the descendants of the first dogs.
video by: Blue Sky Productions​
Ancient Ancestor of Primitive Dogs - The Grey Wolf!
There is a new FB argument about "black saddles" on the backs of CD/AD Dogs - of course some have black saddles - inherited right from their primordial ancestors.
The Red Wolf - a common ancient ancestor -
often has black saddles & black on body!
Testing Genetically 100% primitive CD/AD from Banbury Cross Farm Classic Carolina Dog/American Dingos
Ancient Ancestors of the Classic Carolina Dogs aka American Dingos
ᴛʜᴇ ᴡᴏʟꜰ ᴡᴀʀʀɪᴏʀꜱ on Instagram: "If you love wolves, You Must Check The Link

HERE

for Exclusive Wolf Related Products on Sale for a Limited Time Only!