Banbury Cross Farm
Carolina Dogs / American Dingos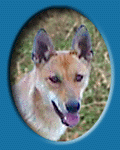 On these pages you'll find some of the most-loved — if not best-known — faces in dogdom: your fantastic Carolina Dogs! This section is for you and your dogs...if you have a Carolina, or even if you just think your super- dog might be a Carolina, we want to hear about it.
​
Dad,
I know you don't really want a dog but I want a dog to be my companion. Specifically speaking, a CAROLINA DOG. I know that a dog would affect the whole family but I think there would be more positive effects than negative effects. Originally I asked for a Labrador Retriever but since you said that you didn't want a large dog I'm trying to compromise. I've done a lot of research on the Carolina Dog breed and this is some of the information I've found on various websites ...
Thank You from Tom & Lisa
Hi Jane,

Well it has been two years since I have received an American Dingo from you. We named him Dash. Words can't say how much my wife and I have fallen head over heels for our dog. The way you described them in your ads was very accurate. Dash is the most unique animal I have ever owned. His personality is one like a human's along with his mannerisms. He has language of his own ( it consists of hundreds of different barks,whimpers, and moans) which are very entertaining.
Hi Jane,
​
Just wanted to check in and let you know how wonderful our life has been since Aussie arrived to us. He is the pride and joy of our lives and is by far the best addition we could ever ask for. Right now, he is six months old. He is in daycare once a week, puppy school another night a week, and joins us on hikes, long walks, to the ocean, running through fields the rest of the time. Last week he met horses for the first time and he started kissing it's nose! ...
Please reload