Banbury Cross Farm
Carolina Dogs / American Dingos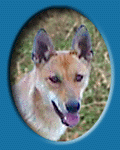 "You're one of the very few who have actually preserved the breed and cared about them remaining true. We need more of that, and need to support those who do it right." -Raluca
Thank you for your interest in our fabulous Carolina Dogs/American Dingos - they are perfect in every way and 100% guaranteed for everything - personality as well as health - they have won in every venue all over the Country (including several Best in Shows!!!) and have been featured in the Discovery TV Channel's Mammoths to Manhattan and National Geographic TV's Search for the First Dog (we invited all our CD/American Dingo owners including the lady in California to come and be in the filming of the Dog Show in Carollton, GA.) - they are fabulous actors, too! - the film crews loved them - as well as publications like Smithsonian Magazine, Dog Fancy and many, many, more. (You can tell this is one of my favorite subjects!!)

We ship all over the World. Our dogs are $1,500 each minus your deposit to be placed on the waiting list - plus the air fare/shipping costs/passports from vet - but this includes crate, toys, puppy shots, worming, collar, leash, vet check and above everything lots of love, attention and socializing - they are all perfect and we have hundreds of delighted owners who have bought as many as five from us!
​
As you can imagine we are very careful to make certain that our owners are the very best for our CD/American Dingos - for instance, we had a man last week who wanted several for boar hunting in the Southwest - and another who wanted one for relay racing in West Virginia - we do not sell our CD/American Dingos for those purposes because boar hunting is very dangerous for the dogs and the relay racing requires severe physical discipline. Although they can do anything, I do not want ours to be subjected to this environment after all the time and love I have given them! I am sure you understand!!
So tell us more about yourselves and your interests, family members, space, experience with dogs in the past etc.
​
We will look forward to working with you.
​
Jane
Billy Benton is seen here setting out to exercise a pack of Carolina Dogs. Neighbors enjoy seeing them pass over farm land or along the side of the road. They are excellent herding and hunting animals and are greeted warmly whenever they are out in the countryside.
A Kennel at Banbury Cross Farm
Carolina Dogs tend to get along well with other pets. They have been brought into homes with established pets and have adjusted quickly. Pups tend to see older dogs as "alpha" (superior) dogs and will act submissive and defer to them.


They are good with cats if introduced when they are young. Getting along with other pets (snakes, hamsters, guinea pigs, rabbits, etc.) and accepting them as part of the family pack is a common trait.


Carolina Dogs are happy in several types of enclosures, such as fenced-in back yards, etc. They are not as inclined as many other primitive type dogs to escape or "be free" because they want to stay with their "Precious Person."
Carolina Dogs/American Dingos
Banbury Cross Farm proudly supports NuVet Labs. Use our Promo Code: 48678
to help ensure the best health for your puppy with quality NuVet products!