Banbury Cross Farm
Carolina Dogs / American Dingos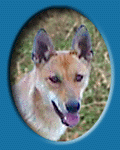 "You're one of the very few who have actually preserved the breed and cared about them remaining true. We need more of that, and need to support those who do it right." -Raluca
AIKEN'S CAROLINA DOGS HAVE ANCIENT ANCESTRY
STAFF PHOTO BY DEDE BILES Billy Benton poses with Lady, a Carolina dog that enjoys being held. A team of researchers said Carolina dogs may have an indigenous American origin.
Aiken Standard
By Dede Biles
Staff Writer
​
People used to make fun of Aiken residents Jane Gunnell and Billy Benton for their devotion to Carolina dogs.
Why, they wondered, was the couple so interested in breeding a bunch of mutts that had been found wandering in the woods or hanging around garbage heaps? They called the animals yellow dogs, porch dogs, ditch dogs, strays, mongrels and curs.
But Gunnell and Benton, who have been together for more than 20 years, are enjoying the last laugh.
A recent study of canine DNA "validates our belief that the Carolina dog is something special," said Benton, who is a real estate agent. "It's not just a mix or a 'Heinz 57;' it's a special dog."
A team of researchers that included scientists from the Royal Institute of Technology in Sweden determined that the Carolina dogs may have an indigenous American origin and aren't just "runaway" dogs of European descent. They also turned up clear evidence of the creatures' ancient Asian ancestry.
The findings support the idea that Carolina dogs' forerunners came to North America across the Bering land bridge from Asia with Paleolithic man thousands of years ago.
When Spanish explorer Hernando de Soto arrived in what is now South Carolina in the 1500s, he encountered Indians who had canine companions, Benton said.
"Those dogs were Carolina dogs," he said.
Benton and Gunnell first learned about Carolina dogs in the mid-1990s when they traveled from Virginia to Aiken to go fox hunting. They met Dr. I. Lehr Brisbin, a senior research ecologist at the University of Georgia's Savannah River Ecology Laboratory. At the time, he was married to Dr. Pam Brisbin, who was a professor at Aiken Technical College.
The Brisbins owned a dog with a foxy face that Pam had found as a puppy at a dump near New Ellenton.
"We named him Horace," she told Aiken Family Magazine in 2011. "He was the best. His behavior was a bit odd; he did things normal dogs just don't do, the way they respond to their environment."
I. Lehr Brisbin noticed there were other free-roaming dogs in the area that looked a lot like Horace. They had fishhook tails and pointed ears. One day, Brisbin realized that they resembled Australia's wild dingoes, which turned out to be close relatives.
Gunnell remembers Brisbin being fascinated by the animals that eventually became known as Carolina dogs. But she said Brisbin told her that he "didn't have time to fool with them."
The unusual dogs were in danger of being killed off by coyotes, which had become more common in South Carolina. In addition, encounters with other types of dogs led to interbreeding, which was rapidly diluting the purity of the Carolina dogs' bloodlines.
"It was remarkable to me to find something in this great computer age that was so ancient and threatened," said Gunnell, who used to practice law. "I knew I had to do something to save it, and that was it."
Gunnell and Benton acquired a plantation in South Carolina in an area of Saluda County known as "The Ridge." They named the property Banbury Cross Farm and kept Carolina dogs there, letting them run around in a pack.
When coyotes started killing too many of their dogs, Gunnell and Benton moved them to 35 acres in Aiken County and built kennels. They raise Carolina dogs and sell them as pets, charging $1,000 apiece for the puppies.
It isn't a profitable venture based on Gunnell's calculations.
"By the time you pay the help, pay to maintain the farm and pay for equipment, you don't make any money," she said.
Gunnell's dogs, and others like them, range in color from pale cream to light red. Some have spots or blotches on their coats.
To make good pets, the puppies need to be socialized.
"They've got to be handled and they've got to be loved, or they will be extremely shy," Gunnell said.
Known as American or Dixie dingoes, Carolina dogs dig small, conical holes in the dirt called snout pits. The females prefer to give birth in dens that they excavate themselves. And both the males and the females will regurgitate food to nourish their young.
Gunnell said her goal is to preserve Carolina dogs by "getting them with people and into families who really love this specific breed and understand that it is different."
Benton described the dogs, which are recognized by the United Kennel Club, as "perfect" companions.
"If you want to go for a walk in the woods, they'll go for a walk in the woods," he said. "If you want to go canoeing, they'll get into the canoe and go with you. If you want to get into a pickup truck and drive around, they're game.
"They're smart and gentle, and they're very soulful dogs," Benton concluded. "When you look into their eyes, they will hold your gaze."
Dede Biles is a general assignment reporter for the Aiken Standard and has been with the newspaper since January 2013. A native of Concord, N.C., she graduated from the University of North Carolina at Chapel Hill.